Remanufacturing Saves Xerox Time and Money
In the current manufacturing environment, remanufacturing can positively impact a company's bottom line. Breathing new life into a worn or damaged complex subassembly and reestablishing the performance it had when it was new can save a company a considerable amount of time and money. Financial benefits of remanufacturing include the ability for a company to amortize its initial engineering and development costs as well as liberate manufacturing space on the shop floor, which can then be used for other projects.
Xerox Corporation located in Rochester, NY, was looking for those types of benefits when they engaged with Pierce Industries. Pierce Industries, a contract manufacturer and remanufacturer, had been a longtime supplier of rollers to Xerox, but when they were given the opportunity to remanufacture booklet makers that had experienced field failure, they jumped at the opportunity to let their 35 years of engineering experience shine.
In the beginning, the jobs were project based. Pierce Industries would receive 4 or 5 parts, analyze them, and determine what had to be replaced. Throughout the process, there were multiple decisions that had to be made regarding the quality and usability of individual components. With the analysis from Pierce Industries, Xerox would determine if there was value in remanufacturing the parts. If it was a financially sound investment, Pierce Industries would remanufacture them.
Pierce Industries developed a remanufacturing procedure for the product, and the engineers laid out a step-by-step guide that experienced technicians used. This kept the process cost efficient and consistent.
To remanufacture a product, it is disassembled, the parts are cleaned, and then reused, replaced or repaired, depending on the condition. The parts are then reassembled and tested for functionality, resulting in a product (or sub-assembly of a product) being returned to like new condition.
The collaboration between the two companies worked well, and Xerox was very pleased with the work Pierce Industries was doing.
"The engineering was excellent, and that is why the first jobs panned out so well, " said Weldon Brinson, remanufacturing engineer and 44-year employee of Xerox. "Instead of us engineering all of these parts, they saved us time, so we could do other projects. They saved us 75 percent of the time we would have spent on the project."
Soon, they were giving Pierce Industries prefuser transports and document feeder assemblies to remanufacture, as well.
Since those early years, the two companies have developed a true collaborative relationship, and both companies are seeing great benefits. As the relationship continued to develop, the quality and expertise that Pierce Industries delivers has been noticed.
"Pierce is excellent to work with. They are very thorough, offer fair pricing, and are willing to think outside the box." said Brinson. "When we needed life testing on remanufactured rollers, they offered to do it. It was fantastic."
Life testing on remanufactured rollers was at one time done internally at Xerox, but the company was now operating a single shift, and the testing is performed around the clock and runs for months. Xerox worked closely with Pierce Industries to do the testing, which involved running printers and evaluating the print quality for deterioration.
Going above and beyond, providing engineering expertise, having highly trained staff, and offering competitive pricing has helped Pierce Industries create a long-lasting relationship with Xerox.
"They are a pleasure to work with, and we continue to look for business to send their way," said Brinson.
Pierce Industries has 35 years of engineering experience and a close working relationship with Rochester Institute of Technology and National Center for Remanufacturing and Resource Recovery.
Contact Zach Bouley at 716.270.8112 or email us at inertiawelding@pierceindustries.com to learn more.
Related Posts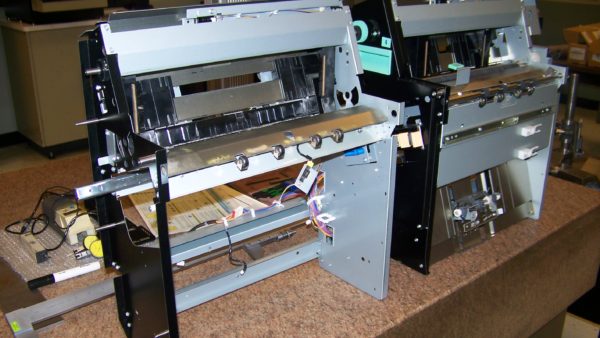 January 31, 2017
As Pierce Industries defines the term, remanufacturing is taking a used product, or component of that product, and converting it to a like-new condition so that it is the equivalent of a new product in terms of: performance specifications appearance…